JANUARY 9, 2019 – Yellowknife, Northwest Territories, CANADA – Oliver Gommerud has been called to the Northwest Territories Bar. Oliver was called to the Alberta Bar in 2016 and can now practice law in both provinces.
Oliver Gommerud has extensive experience in all matters of family law. This includes divorces, common law separations, and all custody and support issues. Oliver also practices in the areas of civil litigation, real estate, wills and estate planning, estate litigation, and contract law.
Click here for more information about Oliver Gommerud.
Ahlstrom Wright believes Oliver Ahlstrom Wright would like to congratulate Oliver on this achievement and his success! Ahlstrom Wright knows that Oliver will be a valuable asset to the Northwest Territories legal team.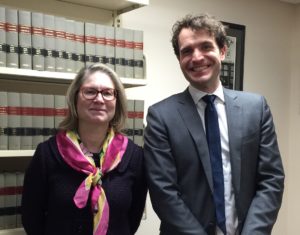 About the Law Society of the Northwest Territories:
The Law Society of Northwest Territories is the governing body for all lawyers practicing in the Northwest Territories. The Law Society of NWT's mandate is to ensure the public is well-served by a trusted legal professional.
In order to get called to the bar in the Northwest Territories, a lawyer or law student's application for membership must be approved by the Law Society of the Northwest Territories Executive. If accepted, a Certificate of Entitlement is delivered to the lawyer (or student) and the Yellowknife Courthouse. That person has one year from the date of entitlement to swear their oath in front of a judge.
About Ahlstrom Wright:
Ahlstrom Wright's experienced lawyers serve the communities, businesses and people of Alberta, Edmonton, Sherwood Park, Yellowknife, and the Northwest Territories.
Ahlstrom Wright is a full-service law firm that offers expert legal guidance in all areas of law (except for criminal law). With over 38 years' of professional expertise, thousands of clients, and a full spectrum of lawyers, our team is ready to serve you. For more information about how Ahlstrom Wright may be of service to you, click here.