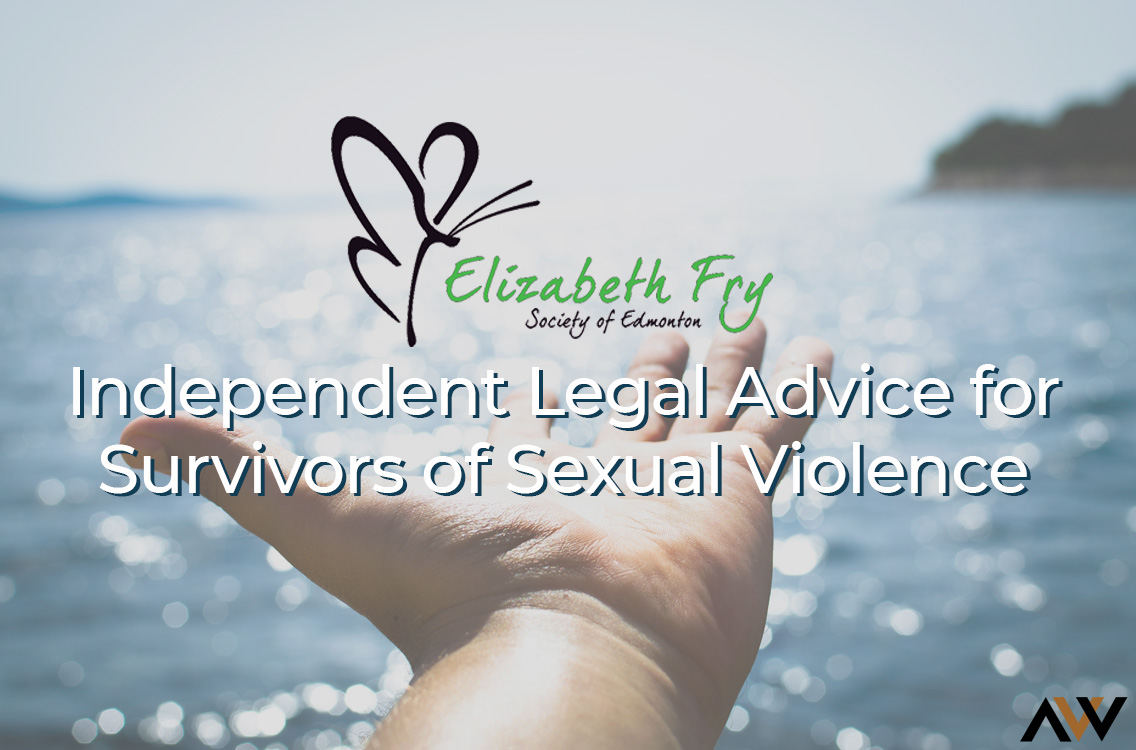 The Elizabeth Fry Society of Edmonton recently announced their Independent Legal Advice for Survivors of Sexual Violence project. For the next three years, The Elizabeth Fry Society will facilitate connections between survivors of sexual violence and lawyers.
What is the Independent Legal Advice for Survivors of Sexual Violence Project?
The ILA project offers four hours of free legal advice from trauma-informed lawyers in Edmonton, Stony Plain, Morinvile, Saint Albert, Sherwood Park, For Saskatchewan, Ponoka, Camrose, Wetaskiwin, Red Deer and several Indigenous communities.
Twenty-two lawyers have been trained to work on the pilot, including those with backgrounds in civil, criminal, and Indigenous law. They've all gone through training on how to work with victims of trauma.
"This project is rooted in providing choice and shifting power back to the survivors. Maybe nothing comes from the legal advice session. But maybe the survivors walk away feeling like, 'Finally, I know what some of my options are, and I can make the best decision based on where I'm at and what will help me to move forward."

– Toni Sinclair, Executive Director of the Elizabeth Fry Society of Edmonton, in a CBC interview
Click here to read the full CBC article.
Why is Ahlstrom Wright Participating in The Independent Legal Advice for Survivors of Sexual Violence?
Ahlstrom Wright wants to take this amazing opportunity to give back to the sexual violence survivors of Central Alberta. The lawyers at Ahlstrom Wright have received training in gender-based and intersectional approaches, trauma-informed practice, and Indigenous historical trauma. Ahlstrom Wright's lawyers were eager to receive the training that is needed in order to work with each survivor and to become the best trauma-informed lawyer they can be.
Ahlstrom Wright is always looking for opportunities in which we can support sexual assault survivors around Sherwood Park and Edmonton. The lawyers and legal staff at Ahlstrom Wright believe in supporting survivors who wish to come forward about their sexual violence experience and will be there for anyone who wishes to pursue legal action. If you decide that the Independent Legal Advice for Survivors of Sexual Violence project is not for you, Ahsltrom Wright offers free 30-minute consultations where we can explore all of your legal options. If you are a victim of sexual abuse, Ahlstrom Wright can help.

Our lawyers serve the communities, businesses and people of Alberta, Edmonton, Sherwood Park, the Northwest Territories and Yellowknife
Ahlstrom Wright is a full-service law firm that offers legal guidance in all areas of law (except for criminal law). With over 38 years' of experience, thousands of clients, and a full spectrum of lawyers, our team is ready to serve you. For more information about how Ahlstrom Wright may be of service to you, click here.
---
How Do Survivors Sign up for ILA?
As of December 5, 2018 the ILA is now accepting clients! If you are a survivor who would like to connect with this program, please email or call Kiray Jones-Mollerup, Project Developer, at (780) 784-2213 or legal_advice@efryedmonton.ab.ca.
Frequently Asked Questions About the Independent Legal Advice for Survivors of Sexual Violence Project:
I am a survivor of sexual violence… But am I eligible for the program?
To access the ILA, you must be over the age of 18, a resident of Alberta, and have experienced sexual violence within Alberta.
Is the ILA project only for women?
No. This project is open to survivors of any gender, income, sexuality, citizenship, etc. All are welcome to participate in the program. There is no limitation on when the sexual violence occurred.
Why has ILA been created and funded through Alberta Ministry of Status of Women?
As many as one in three women and one in six men will be sexually assaulted in Canada in their lifetime. It is estimated that only 6% of these assaults are ever reported to the police. Access to justice is a human right, and all survivors deserve this access. Alberta Ministry of Status of Women has funded this project to remove barriers for survivors who are considering coming forward. This important project will give survivors better understanding of their legal options.
What can I expect from The Independent Legal Advice for Survivors of Sexual Violence?
Survivors can expect:
Confidentiality. All information will remain confidential between each survivor and their lawyer.
Trauma-informed care. Survivors will only be expected to disclose details of sexual violence directly to their lawyer. We respectfully ask that survivors refrain from disclosing details to other program staff, so as to maintain lawyer-client privilege and to avoid re-traumatizing survivors.
Four hours of free legal advice. Advice will be provided to help survivors explore their options, including but not limited to criminal action, human rights complaints, and civil suits. Lawyers will not represent survivors as part of the ILA project. This program is strictly for legal advice. If a survivor would like their ILA lawyer to represent them, they must make arrangements directly with their lawyer after their ILA-funded session is complete.
Main Office:
900 – 10242 105 Street
Edmonton, AB, T5J 3L5
Phone:
(780) 784-2213
Email:
legal_advice@efryedmonton.ab.ca