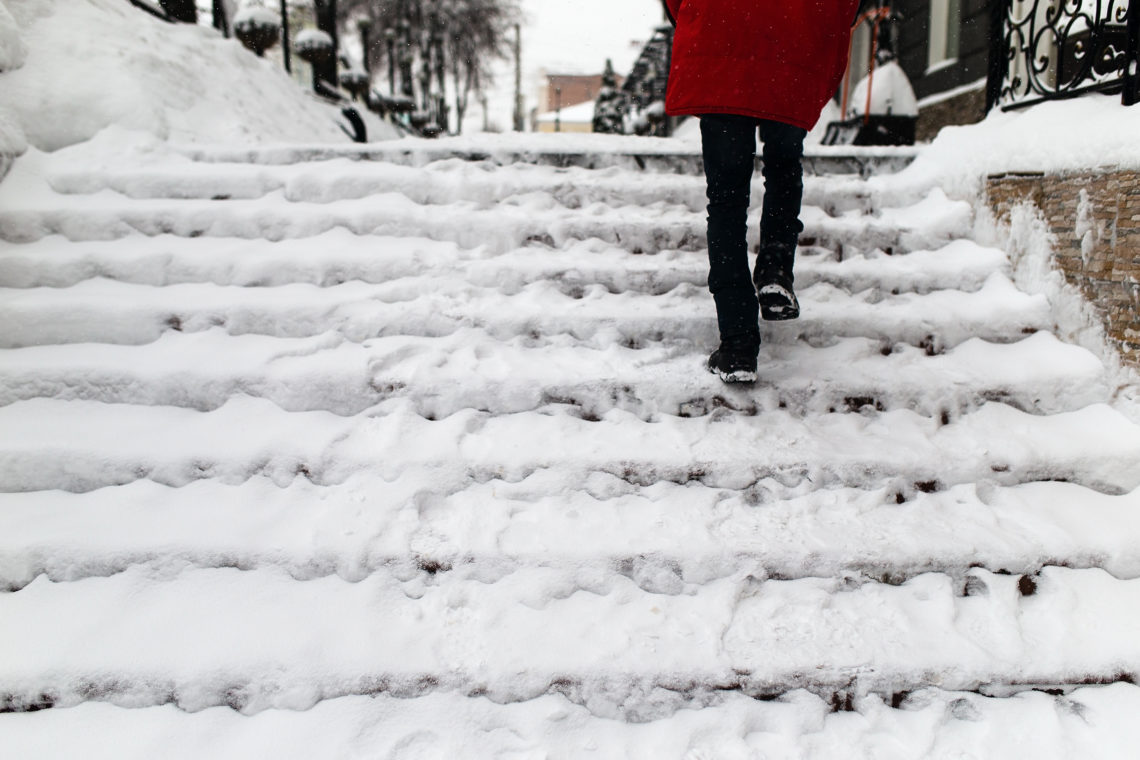 For many people after a slip and fall, there is a sense of embarrassment that sets in and leads the person to leave the scene of the fall as quickly as possible. Although, in order to protect yourself, there are some basic things that you need to do either before you leave the scene, or that you should return to the scene to do within a few hours.
Can you claim if you slip on ice?
If you slip on ice, you may be able to claim. The personal injury lawyers at Ahlstrom Wright are always here to help. However, there are a few steps you need to take after a slip and fall that can help determine if you are eligible to make a personal injury claim. If you fall on ice, it is important to do the following:
8 Things You Should Do After a Slip and Fall in Alberta
1. Take Pictures of the Location You Slipped and Fell
Take pictures of the location where you fell from several different angles. Be sure to capture any unusual hazards such as ice, snow, cracks, etc. that contributed to your fall. Take pictures of the footwear that you were wearing when you fell. It is important to take pictures of the soles of your shoes to show what sort of tread was on the footwear. Furthermore, if your clothing was damaged or dirtied by the fall, take pictures of your clothing as well.
2. Report the Fall
Liability for Slipping On Ice Or Snow
It is important to report your fall to the property owner or an agent of the property owner. Make sure they understand what caused your fall. If they complete an incident report, ask for a copy of it.
3. Check for Surveillance Cameras
If the owner of the property has surveillance cameras near the area of your fall, ask the owner to preserve the video.
4. Identify Witnesses
Get the names and phone numbers of any potential witnesses to your fall and people who were there after the incident. This is important because you may need them as witnesses during your claim.
Were you injured after a slip and fall?
The personal injury lawyers at Ahlstrom Wright are here for you.
Ahlstrom Wright has offices in Sherwood Park, AB and Yellowknife, NWT
To discuss your case, contact Ahlstrom Wright for a free personal injury consultation.
---
5. After a Slip and Fall, See A Doctor
Seek medical attention as soon as possible after your fall. If there is any chance that you hit your head, suffered a broken bone, or could have any other significant injury, then get a physician to assess you. Keep any documents you receive during your doctor's visit.
6. Write Out What Happened at the Time of the Fall
When you get home, write out a brief summary of what happened to you. This statement is to help you remember the details of the fall later on. You should not give this statement to the property owner. In your summary, take note of the weather conditions, any debris or objects on the ground, and any warning signs near the area where you fell.
7. If Necessary, Notify the Government of Your Slip and Fall
Can I sue the city for slipping on ice?
If you fell on public property such as a sidewalk, street, or at a property run by the government, send written notice to the responsible government immediately. In Alberta, you are required to provide written notice to the government within 21 days of the fall. In the Northwest Territories and Nunavut, you have 30 days to provide written notice of the fall. Failure to meet these deadlines could result in the government being able to deny your claim altogether.
8. Contact a Lawyer About Your Slip & Fall or Trip
Contact a lawyer to see if you have a valid claim. The personal injury lawyers at Ahlstrom Wright can assist with assessing the circumstances of your fall to determine if someone is responsible for causing your fall.